20 Years of Helping The Hungry!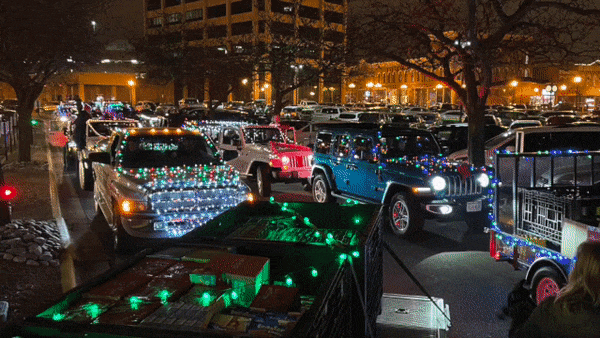 Registration for the 2021 Food Ride is open!
The hungry still need our help now more than ever. Make the drive and join us for the lighted parade and food donation. Rotary Lights and Pischke Motors are happy to support our efforts. Can't make it on the 18th? Make a monetary donation and we'll shop for you! Help us reach our goal of 4000 food items for 2021. Our monetary goal for 2021 is $4000 and all of that will be used to purchase food to reach our food items goal. If you can't join us for the ride, click the donate link above and help us help the hungry!
2021 Combined Monetary Donation Meter
25% To Goal

Halfway There!

Almost there!

$5000 Goal reached!
2020 was our 19th year with 30+ Jeeps from three states through Rotary Lights. We had guests from high school age all the way through "well past" retirement. Jeep styles range from "right off the dealership lot" to highly modified trail rigs. In 2021, we donated over 6600 items to Rotary Lights food collection efforts.
It looks to be another amazing year helping the hungry! This year's event is Saturday, December 18th. If you'd like to learn more or follow our cause, the Facebook page for this ongoing event is at https://www.facebook.com/jeepfoodride/ or you can email info@jeepfoodride.com for more information.
For 2021, we are continuing to combine efforts with our friends at Oktoberfest USA! Each year, the four major groups of Oktoberfest have a friendly food/fundraising competition to help the hungry. Their monetary efforts are shown below and are included in the main meter above. Thank you to everyone at Oktoberfest for helping us help the hungry!
Oktoberfest Food Drive Donation Competition ($500 goal for each group)
Trustees / Past Festmasters
Royal Family Past & Present
Grenadiers / Alumni Grenadiers
Meters last updated 11/16/2021 – 11:45 a.m. Central